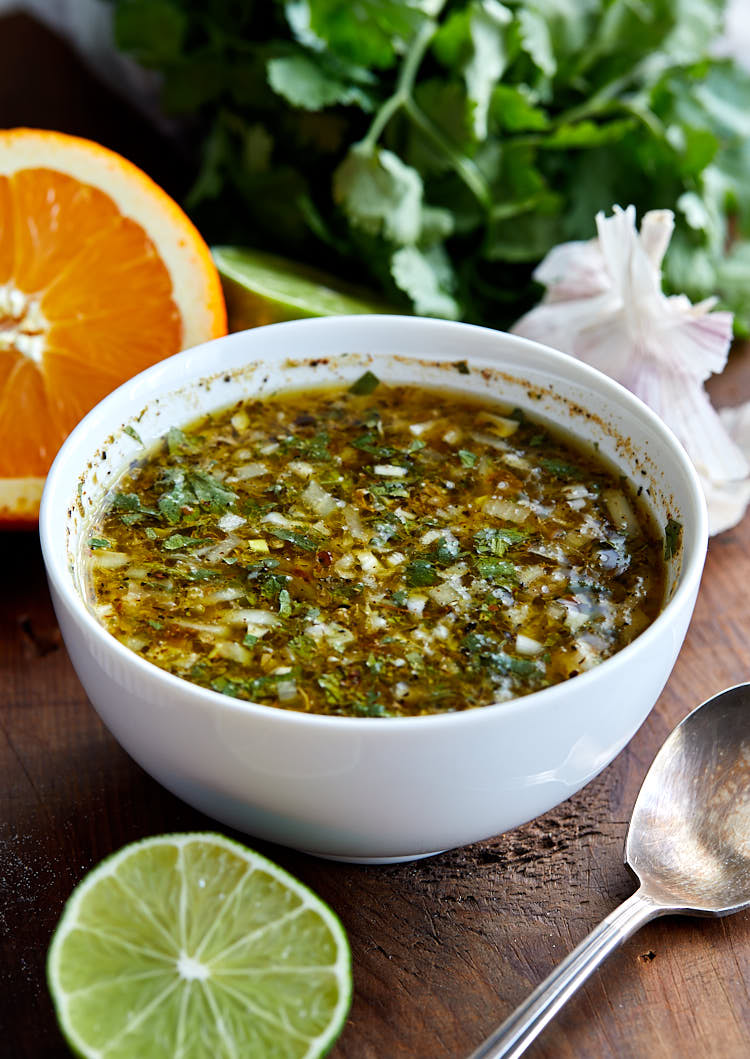 The first time I made this Mojito marinade I immediately fell in love with it. It tasted ridiculously good on its own and it tasted even better with the Oven Roasted Mojito Chicken. I literally drank all the remaining pan juices and licked my plate clean. I hardly know of a better chicken marinade except, perhaps, for the widely known and wildly popular killer chicken marinade.
This marinade needs to be cooked, then pulsed in a blender or food processor to better combine ingredients. Be careful pouring the liquid ingredients into hot oil and make sure to wear protective clothing and oven mitts. It seems to go against proper cooking practices but the author swears it's necessary for great flavor extraction. You be the judge.
I skipped the pulsing the second time I made this marinade (you can see big chunks of vegetables and herbs on the picture above) and found little to no difference in the final result. I recommend that you try both ways and decide for yourself. If like me, you taste little or no difference, skip pulsing and it will save you some time cleaning your blender or food processor.
Recipe adapted from Dinosaur Bar-B-Que: An American Roadhouse by John Stage and Nancy Radke.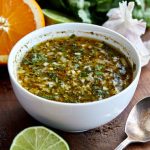 Print Recipe
Dinosaur BBQ's Mojito Marinade
Ingredients
1/4

cup

garlic

(chopped)

1/2

cup

yellow onion

(chopped)

2

cups

orange juice

(freshly squeezed)

1/4

cup

lime juice

(freshly squeezed)

1/2

cup

olive oil

(good quality)

4

tsp

kosher salt

1

Tbsp

black pepper

(freshly ground recommended)

2

tsp

ground cumin

2

tsp

dried oregano

1

Tbsp

fresh cilantro

(chopped)
Instructions
In a large bowl, combine the garlic, onions, orange juice and lime juice. Set aside.

Heat the oil in a large sauce pan until you see the first whiff of smoke. Now, cover your arms and, wearing oven mitts, carefully slide the contents of the bowl into hot oil. Be very careful as the liquid will splatter. Dinosaur BBQ recommends this step because it produces superior flavor release. Simmer for 5 minutes to soften the onions and garlic.

Season the marinade with the remaining spices and seasonings. Stir and remove from heat.

Pour the marinade into a blender or a food processor and pulse 3 times to combine the ingredients.

Transfer the finished marinade into a plastic container and cool to room temperature. Then cover and refrigerate. The marinade can be stored in a fridge for up to 2 weeks.