This soup was created by Dinosaur BBQ spontaneously but became super popular and made its way into Dinosaur BBQ's book of popular recipes. This soup is delicious and has a good Sunday vibe. A must try!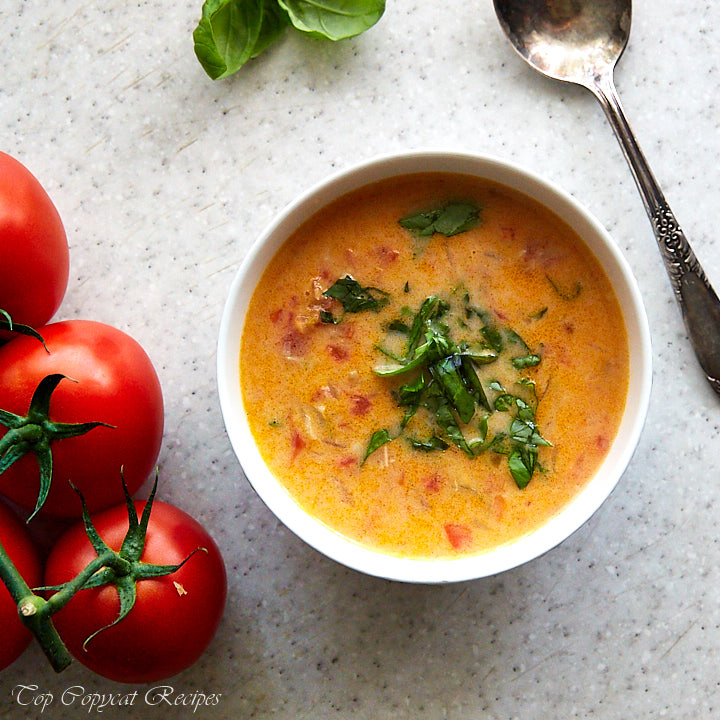 Roasting garlic takes a bit of time, while the soup can be made very quickly. You can prepare the garlic in advance and store in a fridge.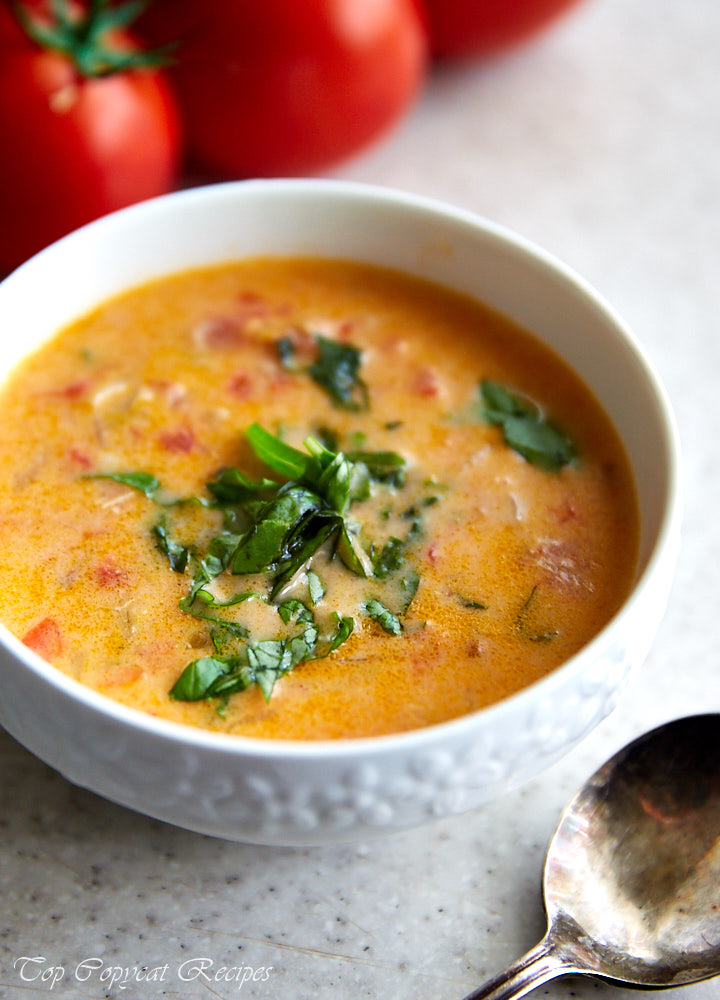 Enjoy!
Recipe adapted from Dinosaur Bar-B-Que: An American Roadhouse by John Stage and Nancy Radke.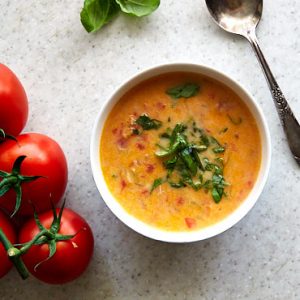 Dinosaur BBQ Roasted Garlic and Tomato Soup
Ingredients
1/4

cup

butter

2

Tbsp

olive oil

1

medium onion

chopped

1

small green bell pepper

chopped

A couple of pinches each kosher salt and black pepper

3

garlic cloves

minced

2

Tbsp

all-purpose flour

4

cups

chicken broth

2

heads or garlic

roasted

4

medium ripe tomatoes

peeled and diced (or pureed)

1

bay leaf

1

cup

heavy cream

1/2

freshly grated Parmigiano-Reggiano cheese

Tabasco sauce to taste

2

Tbsp

freshly squeezed lemon juice

20

fresh basil leaves
Instructions
To to prepare the roasted garlic, cut the garlic tops off, sprinkle with 2 tablespoons of butter and 1/2 tsp each kosher salt and black pepper. Wrap in foil and bake at 375F for one our. Let cool, then squeeze the roasted garlic out of the skins into a small bowl. Mash with a fork and set aside.

In a large pot, melt the butter over medium-high heat. Add the olive oil as the butter is melting. Add the onions and the bell pepper, and season with salt and pepper. Cook until soft, constantly stirring. Add the minced garlic and cook for another minute. Add the flour, stir really well, then add the broth and mix. Stir in the tomatoes and the roasted garlic. Bring to a boil. Add the bay leaf. Drop the temperature to low, cover and let the soup simmer for 15 minutes.

Remove the bay leaf, stir in the cream, Parmigiano-Reggiano cheese and Tobasco sauce. Add the lemon juice, the remaining 2 Tbsp of butter and half of the chopped basil leaves.

Ladle the soup into bowls, sprinkle with the remaining chopped basil and serve.