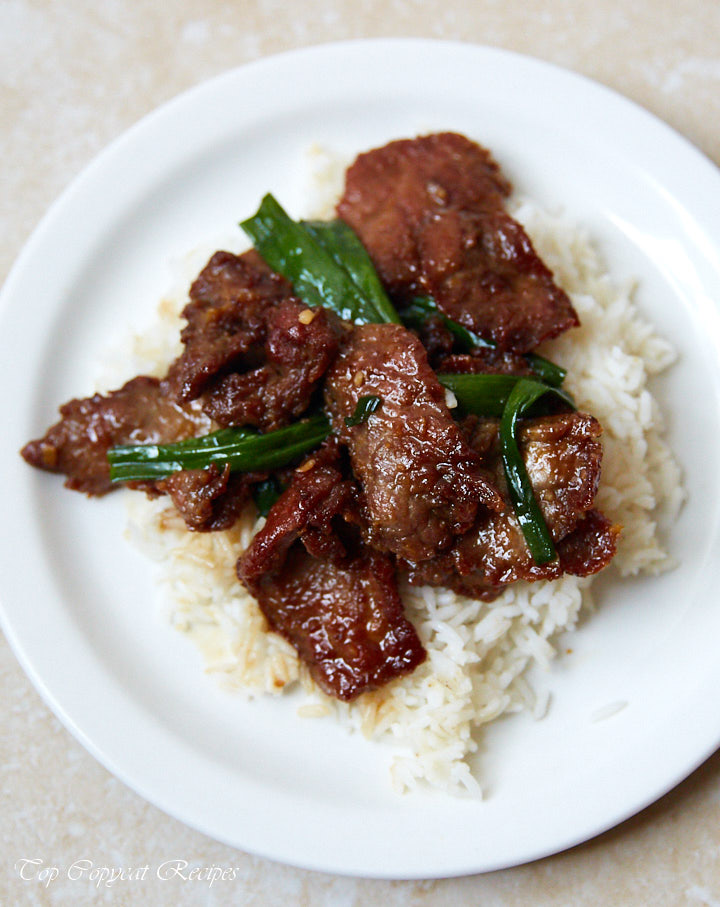 If you are a fan of P.F. Chang's Mongolian Beef, this recipe is for you. This dish has a cult following and many are trying to replicate it at home. This authentic recipe will take away any guesswork from that.
The vast majority of P.F. Chang's Mongolian Beef copycat recipes are heavy on the sauce, sugar and include corn starch. While that's not necessarily a bad thing and many people like it that way, that's not how authentic Mongolian Beef at the restaurant will look and taste like. It's a lot less sweet and with a minimal amount of sauce that's wonderfully caramelized onto the meat.
The original recipe that was revealed by P.F. Chang's on their website was their gluten-free version that uses gluten-free soy sauce. One would assume that the regular version of their Mongolian Beef would use regular soy while everything else remains the same. Having tried this recipe and the original dish from the restaurant a number of times I can confirm that this recipe is quite close to the original.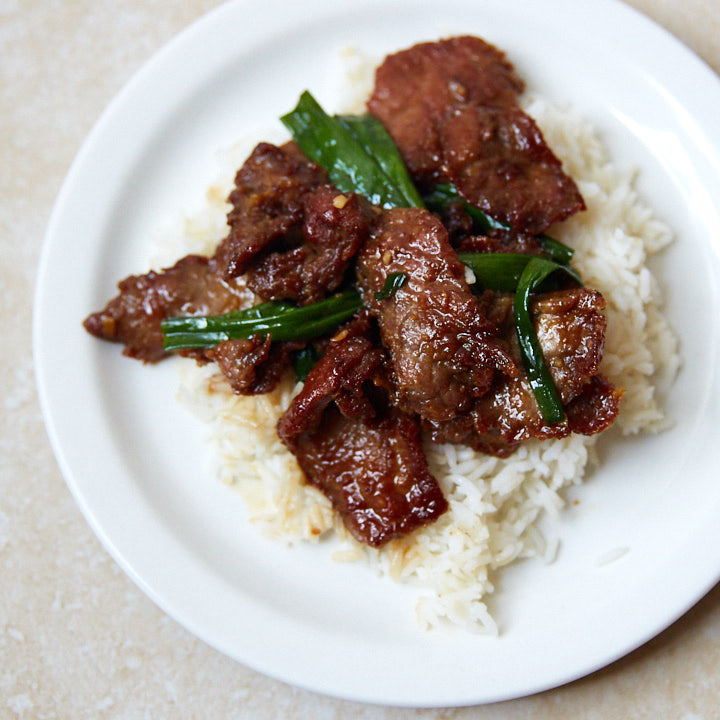 There are a few things that you can try to make this dish even better. I once asked the waitress at the P.F. Chang's how they make the beef so tender and she told me that they marinate the meat before cooking. Not having any more details on that I came up with this very simple marinade: 3 tablespoons of low sodium soy sauce, 1 tablespoon rice wine and 1 teaspoon of sesame oil. This worked wonderfully. Even 15 minutes of marination time makes a difference, but I like t shoot for 30 minutes to 2 hours as that yields better results. After marinating, pat the beef dry with paper towels before cooking to ensure good browning.
Finally, you may notice that I suggest using a low sodium soy sauce. The original recipes does not specify which soy sauce they use at P.F. Chang's but I like the results far better when using the low sodium one. It just tastes better and come out close to the original in terms of saltiness.
Recipe adapted with changes from P.F. Chang's Hawaii.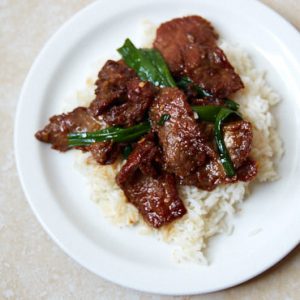 P.F. Chang's Authentic Mongolian Beef Recipe
Ingredients
12

oz

sliced beef tenderloin

1

Tbsp

soybean oil

(or peanut, canola, safflower oil)

1/2

tsp

fresh garlic

finely chopped

2

fl oz

low sodium soy sauce

(see note 1)

2

Tbsp

white sugar

1

tsp

rice wine

2

oz

green onions

green part only, cut 3" long

1/2

tsp

sesame oil
Instructions
Heat the oil in a saute pan over high heat. Add the sliced beef and cook for 30-60 seconds, or until the beef if lightly browned around the edges and no longer pink throughout the rest of the surface.

Add the garlic and toss with the beef.

Add the rice wine, soy sauce, and sugar, and bring to a boil. Cook the beef until the sauce has thickened enough stick to the meat and no longer pools at the bottom of the pan.

Add the green onion sticks and toss to mix with the beef. A few tosses are all that's needed - the onions do not need to be wilted.

Add the sesame oil and toss the beef.

Transfer the beef to a serving platter and enjoy with your favorite side dish (e.g. steamed rice or noodles)
Notes
Note 1 - the original recipes does not specify which soy sauce they use but I find that the low sodium one produces the best results.