This Cinnabon cinnamon roll recipe is the closest to the real deal I've tried. The best copycat Cinnabon recipe out there! This recipe uses real butter, not margarine like Cinnabon does. If you want to be 100% authentic, use margarine.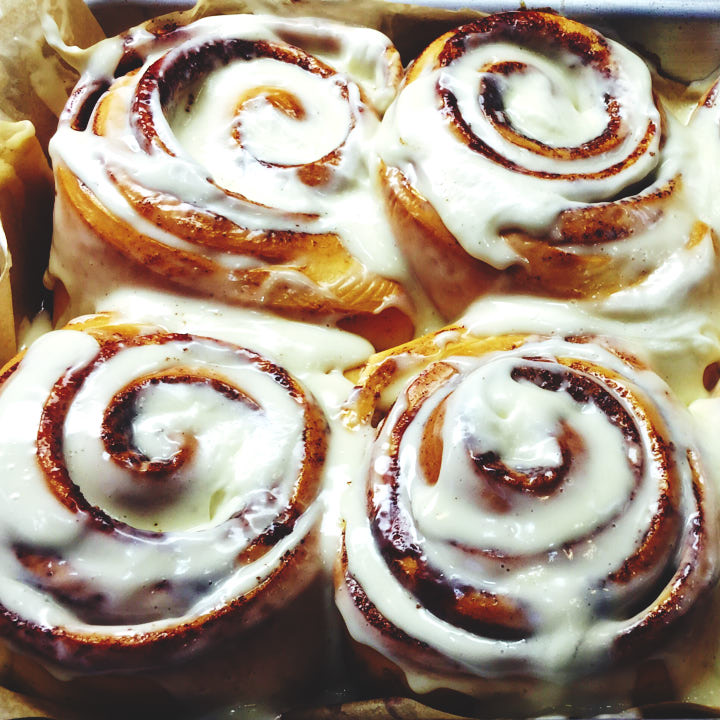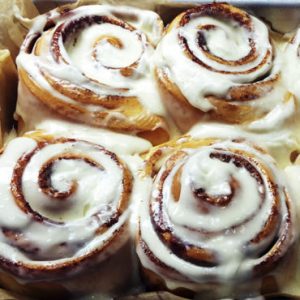 Cinnabon Cinnamon Roll Recipe
Ingredients
For the cinnamon roll dough:

2

tsp

9 g active dry yeast (traditional)

1

cup

250 ml warm milk (105F to 115F)

1/2

cup

100 g granulated sugar

1/3

cup

75 g unsalted butter, softened

1

tsp

5 g sea or kosher salt

2

large eggs

4

cups

500 g all-purpose flour

For the filling:

1

cup

200 g brown sugar, packed

3

Tbsp

cinnamon

1/3

cup

75 g unsalted butter or margarine, softened

For the cream cheese icing:

1

stick

113 g unsalted butter or margarine, softened

1 1/2

cups

185 g powdered sugar

1/4

cup

55 g cream cheese

1/2

tsp

vanilla extract

1/8

tsp

sea or kosher salt
Instructions
To prepare cinnamon roll dough, place the yeast and the warm milk in a large bowl, and stir. Let sit for about 5-10 minutes for the yeast to activate. The yeast is activated when a foam cap forms on top of milk. If that doesn't happen, repeat, paying attention to milk temperature and making sure the yeast is fresh.

Using a stand mixer, mix the sugar, butter, salt, eggs, and the flour.

Add the milk and activated yeast to the mixer bowl. Mix well, using a dough hook, until the dough is mixed well and gathered into a ball.

Transfer the dough into an oiled bowl, cover and let rise in a warm place for about 1 hour or until the dough has doubled in size. An oven with the light on provides a sufficiently warm environment.

Preheat oven to 350 F degrees. Lline a 9" x 13" baking pan with parchment paper and set aside.

Transfer the dough to a lightly floured surface and roll out to about 1/4" thick, 18" x 12" rectangle.

Spread the butter evenly across the entire surface, then sprinkle brown sugar and cinnamon.

Starting at a longer side of the rectangle, carefully roll the dough into a 18" long roll. Using a serrated knife, slice the roll into about 1 1/2" pieces.

Transfer the rolls into the baking dish, spacing evenly. Cover and let proof for 30 minutes, until doubled in size.

Bake for about 20 minutes, or until light golden brown. Baking time will greatly depend on the oven and the dough, so it's best to go by doneness and not by time.

Meanwhile, prepare the icing by mixing all its ingredients until light and fluffy.

When done, remove the cinnamon rolls from the oven and cover with icing while they are hot. Serve warm.
Other very good cinnamon roll recipes: