Southern cooking and cornbread go hand in hand. Kind of like Italian cooking and focaccia bread. I love BBQ with cornbread, they complement each other.  Dinosaur Bar-B-Que's sweet and mellow cornbread is very tasty, even on its own but served with BBQ, it really takes it to the next level.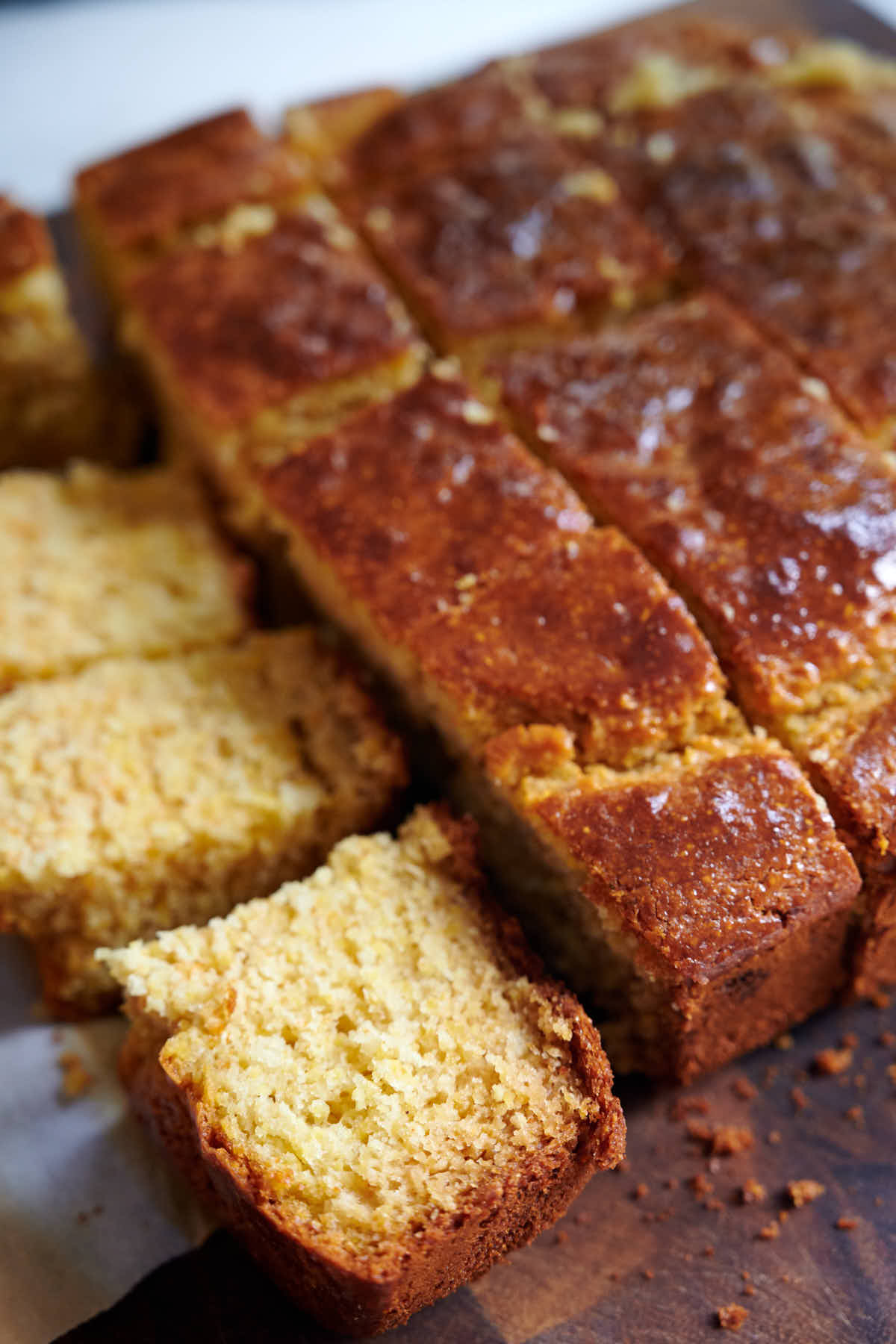 If you like your cornbread cheesy and with a nice kick, you can turn the already amazing cornbread recipe below into cheddar-jalapeno honey hush cornbread. Follow the recipe below but stir in one cup of cubed extra-sharp Cheddar cheese and two medium jalapeno peppers, seeded and minced, into the batter right before pouring it into the pan. Increase the baking time to 30 to 35 minutes and glaze with honey in the same way as the original recipe.
Enjoy!
Dinosaur Bar-B-Que Honey Hush Corn Bread
Ingredients
1 1/4

cups

yellow cornmeal

1/4

cup

sugar

3/4

cup

flour

1 1/2

tsp

baking powder

1/2

tsp

baking soda

1

tsp

kosher salt

1

cup

buttermilk

2

eggs

slightly beaten

1/2

tsp

vanilla extract

1/4

cup

melted butter

2

Tbsp

honey
Instructions
Preheat oven to 350F. Grease an 8" x 8" baking pan with shortening. Place the pan in the oven to heat while you're mixing the cornbread.

Mix the cornmeal, sugar, flour, baking powder and baking soda, and salt in a bowl. Whisk together the buttermilk, eggs, vanilla, and melted butter in another bowl. Pour the wet ingredients into the dry and give them a good stir, just til everything is moistened.

Pull the hot greased pan from the oven and pour in the batter. Bake for 25 to 30 minutes, or til a toothpick inserted in the middle comes out clean. Take the corn bread out of the oven and brush the top with honey.

Cool for 10 minutes in the pan before cutting into squares.